The Solidarity&Justice Coalition has been overcoming the challenges of war in Ukraine for 114 days
114 days since the whole country went into opposition to russia large-scale aggression. Civil society has also launched its marathon of assistance, which continues to this day without a break. The Legal Development Network is no exception. The union initiated the creation of the Solidarity&Justice Coalition, which included 19 organizations. Together with partners, the coalition has been working for 114 days to restore the rights of affected Ukrainians, support them and implement more effective strategies for the recovery and socialization of internally displaced persons within the #StandWithUkraine Campaign, which the LDN initiated from the first days of russia's invasion of Ukraine.
Thus, 5691 people with 6046 cases have already received legal aid remotely and in the offices of the Network's member organizations. Lawyers advised IDPs on how:
to recover lost documents;
to receive compensation for the destroyed property;
to find housing and work and place children in educational institutions.
They helped to orientate on the order of departure abroad and what are the ways to return to Ukraine illegally deported our fellow citizens to the territories of russia and belarus.
There have been many appeals from servicemen about:
conscription, termination of contracts with the Armed Forces of Ukraine, border service, territorial defense,
expansion of territorial defense rights,
postponement of conscription,
financial support for representatives of territorial defense and the military of the Armed Forces of Ukraine, etc.
Lawyers explained how to get certain services in wartime, how to get information from the registers, to carry out registration activities, how the judiciary and public authorities work, and much more.
The Legal Development Network initiated the creation of a platform for obtaining legal advice for Ukrainians abroad. According to official data, more than 6 million Ukrainian citizens went abroad to escape a full-scale war against Ukraine. Many of them need clarification on the specifics of the laws of the countries in which they are located. The platform was created and supported by the Legal Innovations NGO (LinGo).
In three communities of Lviv, Ivano-Frankivsk and Vinnytsia oblasts, systematic work is being done to resettle internally displaced persons, provide them with legal, psychological assistance, employment, community integration, etc. In total, 440 families were helped to find housing in Lviv and Ivano-Frankivsk oblasts (more than 1,353 people in total).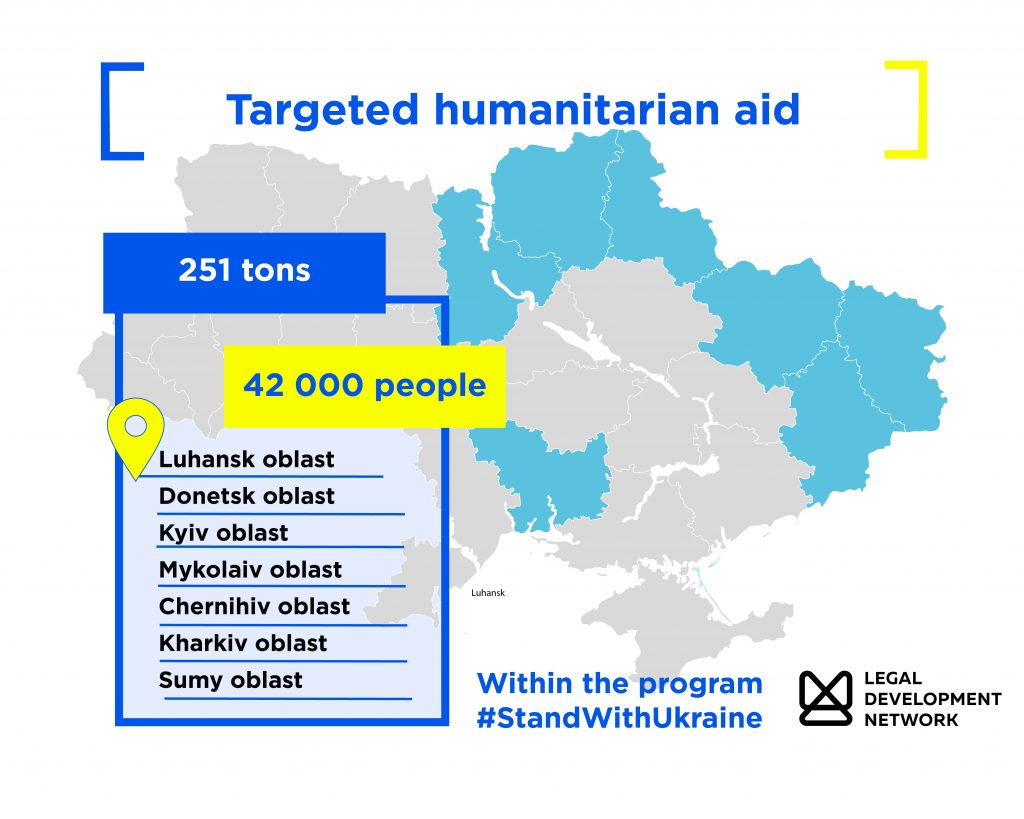 NGO «Chernihiv Public Committee for Human Rights Protection», NGO «Cherkasy Human Rights Center», NGO «Public Legal Aid Service», NGO «Public Platform», NGO «Association for Democratic Development of Donbas» together with the Ukrainian Educational Platform, Association of Public Advisers of Ukraine, volunteer union Ukraine Alive 2022 provided food and basic necessities (251 tons) to more than 42,000 residents of Luhansk, Donetsk, Kyiv, Mykolaiv, Chernihiv, Kharkiv and Sumy oblasts.
Knowing the needs and challenges of each of the communities in which organizations work, organizations join in responding to them, seek resources and partnerships, and provide expert support.
Support for volunteer initiatives
At the beginning of the full-scale war, almost all organizations coordinated the work of volunteer organizations and social services and distributed in-kind aid. Today, this trend is still supported by most of them. The Kamianets-Podilskyi Bar Association in the Khmelnytskyi oblast coordinates volunteer groups with territorial defense battalions and city authorities and assists volunteer communities in the legal aspects of their activities. The Podillia Center for Human Rights in Vinnytsia oblast also takes care of a volunteer group. The organization recently received and delivered ambulances donated by Italian volunteers.
Documentation of war crimes
An important area is the documentation of war crimes. Such activities are carried out by the Northern Human Rights Group in the Sumy Region and the Cherkasy Human Rights Center, which gather facts in Sumy, Poltava, Cherkasy, and Donetsk oblasts within the framework of the Coalition for Documenting War Crimes Tribunal for Putin. Experts from these organizations also teach activists and local authorities how to properly document and work with a war crimes team.
Challenges in eastern Ukraine
The Donbas Agency for Democratic Development in Donetsk Oblast, the Public Legal Aid Service, and the Public Platform NGO in Luhansk Oblast continue to care for residents of these oblasts. They helped evacuate 1,463 people, provide targeted humanitarian assistance, psychological assistance (32 have already received it), and legal advice. They also explain how to behave during the shelling, spread breaking news.
Due to the approach of active hostilities and the temporary occupation of the Public Legal Aid Service, we had to move twice – first from Novoaidar to Sievierodonetsk, and then to Lysychansk (all settlements – Luhansk oblast). The organization continued to support the work of the Humanitarian Contact Center "We will always help". In addition to these areas of counseling, they teach the basics of medical care to local residents. Because the city is without light, they have created an opportunity to charge phones and use the Internet to receive digital government services. The Donbas Agency for Democratic Development, with the support of international partners, is also continuing the work of the Humanitarian Center "Help Near", which, in particular, cares for people with disabilities.
The Public Platform organization advises residents of Luhansk region who are forced to move to Dnipro, Zaporizhia, and Ternopil on opportunities to get help in these cities from various sources and attracts volunteer psychologists. The organization systematically studies the needs of internally displaced persons and seeks opportunities to meet requests.

The Legal Development Network helped evacuate 60 LDN member organizations and their families. Unfortunately, part of the team of the organization working in the temporarily occupied territory is still in danger. Nevertheless, they find opportunities and continue to provide legal advice online.
We thank the Renaissance Foundation, the Mott Foundation, the DLA Piper Foundation, the international charity platform GlobalGiving, and the Legal Empowerment Fund (Fund for Global Human Rights) for their solidarity and support. We are convinced that by working together, we will be able to strengthen each other and help as many people as possible who need it.
Slava Ukraini! Glory to Ukraine!
P. S. More relevant information on legal and humanitarian issues – is in the special section #StandWithUkraine. It accumulates materials that may be useful to those who suffer, whose rights are violated as a result of the war between russia and Ukraine.
You can
our work with your contribution
If you have notices an error on the web-site, please, highlight the text and press ctrl-enter.
Have you found your solution? Help others!
Share on social media
Print a poster
Print and place the Network's poster on a notice board in your entrance hall
Become a volunteer
Become a volunteer and assist others in finding problem solutions
Do you need a consultation ?
Online
Поставте питання, i один з експертiв Мережi надасть вiдповiдь.
Графік роботи чату: з 10:00 до 16:00
щодня
(обідня перерва з 13:00 до 14:00).
In an office
Find the nearest consulting room in your city and apply for a consultation.